PHOTOGRAPHS CONNECT US TO THE PAST, THE PRESENT, THE FUTURE. MOST IMPORTANTLY, PHOTOGRAPHS CONNECT US WITH EACH OTHER. THEY SHOW OUR LIVES IN THAT EXACT MOMENT IN TIME. AND TIME IS FOREVER MOVING FORWARD, FOREVER CHANGING. HOLD ONTO THOSE SPECIAL MOMENTS BY INVESTING IN THEM WITH OUR EXCLUSIVE PRODUCTS. WE OFFER AN ARRAY OF PRODUCTS TO SHOWCASE, SHARE AND PRESERVE THOSE SPECIAL MOMENTS. DISPLAY & PROTECT YOUR FAMILY HEIRLOOMS FOR FUTURE GENERATIONS TO COME.
NO ROOM IS FULLY DECORATED WITHOUT WALL ART. LET YOUR FAMILY BE THE ART THAT ADORNS YOUR WALLS!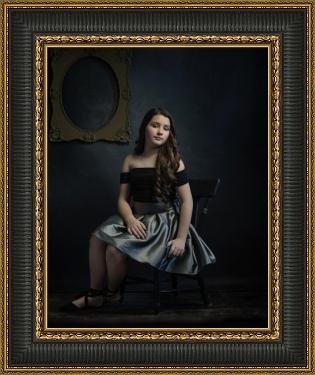 Gorgeous photography deserves perfectly flattering frames. And your photography Investment is truly, fine art! We still offer exclusive ROMAN COLLECTION FRAMING which is hand-crafted to show each frame's uniqueness to please our clients who love the ornateness of a fine crafted frame, but we now also offer our new CITY COLLECTION FRAMING for the modern home composed of sustainable hardwood moldings, all come with frame-grade acrylic panes, and acid-free mats and there is an array of colors & styles to choose from. If you're home is more shabby-chic, we've addressed your needs and desires, as well, with our new RUSTICA COLLECTION.
We've also made it so easy for you to design your own Collection. Just add your favorite photographs to our custom designed wall groupings and we will add that special Ryan Joseph magic to your photographs giving your Wall Art that extra special touch.
NEW TO OUR PRODUCT COLLECTION! A great addition to any room as a single art piece or in a wall grouping, canvas printing is a great way to showcase your Wall Art. Our photographs are printed on fine art canvases and meticulously wrapped around a custom made, stretched frame for a clean, gallery style look. This museum quality product will adorn your walls for many years to come!
We just love our Portfolio Boxes! What they offer our clients is a great way to easily share your memories with friends and family while protecting them at the same time. Your prints are further enhanced & printed on archival and museum quality paper which is then matted for stability and protection. They are presented in a beautiful, linen covered, glass top box.
WE MAKE INVESTING WITH US EASY! CHOOSE TO PAY IN FULL AND WE WILL BEGIN WORKING ON YOUR WALL ART IMMEDIATELY OR TAKE ADVANTAGE OF EQUALLY DIVIDING YOUR PAYMENTS IN A 3, 6, OR 9 MONTH OPTION. EITHER WAY YOUR ARTWORK WILL BE PROTECTED AND DELIVERED UPON PAYMENT COMPLETION.